Where has the time gone? My last post was three months ago and I have to say I have been busy in one way and another.
Trip to the Festival of Quilts in August was exhausting. Four days of classes left me little time to shop. But that only challenged me to see how much shopping I could squeeze into a short amount of time. All I can say is I could be a serious contender for Supermarket Sweep!
September brought the lovely show at Hever Castle. Such a beautiful location. Unfortunately, the weather was against us.
I have had a variety of quilts to quilt. Each one has brought a new challenge to further develop my long-arming skills. Just proves that you never stop learning.
Scrappy quilts is what I am into at the moment. I can never seem to get to the bottom of my scrap bags! Possibly because I just can't bear to throw anything away. Clutter is my middle name and I guess I have just resigned myself to the fact that it is just the way I am.
I am an avid follower of
Bonnie Hunter at Quiltville
.
Strippy quilts are my favourite. Here is one I made earlier this year:
My second strippy scrappy quilt is waiting to be quilted. The arrangement of the strippy blocks will make the design look totally different. I have an idea for a third in the series, but may have to wait until the new year.
Bonnie has started a new mystery quilt called "Orca Bay"!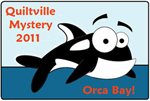 I am really looking forward to having a go. Really, I don't generally like surprises when it comes to making quilts. Fabric selection isn't easy when you don't know the outcome. But my challenge for this year is to quilt-a-long with Bonnie by playing it safe, using her colour choices. Sometimes you just have to jump in and go with the flow.
Another scrappy inspirational person is
Gyleen X Fitzgerald
. Having seen her on
"The Quilt Show"
with Alex Anderson and Ricky Tims, I was tempted by her pineapple blocks and
"Trash to Treasure"
theme. Book and ruler ordered, I am prepared to have a go at her challenge as well.
Like I said, I have tons of scraps and definitely not in need of buying anymore fabrics. 'Reduce my stash' is my mantra this year. So many beautiful fabrics out there, but no new purchases until I've made a dent in what I already have.
Fingers crossed and machines at the ready, the challenge starts TODAY!!!